The city of Bangalore still preserves the traditional appeal and culture despite facing huge advancements. The unrivalled growth of IT industries has expanded Bangalore beyond its boundaries. Voguish restaurants, unique-themed cafes, pubs and shopping malls fill the beautiful city streets of Bangalore. Glorified as a garden city, Bangalore has many gorgeous parks, lakes, and natural landscapes. Bangalore also enjoys amiable weather all over the year. The affluent localities in Bangalore draw a huge crowd of young people seeking a better life.
This flourishing metropolis is home to several posh areas. To offer flexible stay for frequent travellers, Bag2Bag has encompassed a wide range of hotels and service apartments. Bag2Bag provides the hourly hotels in prime localities of Bangalore for different travellers.
Koramangala
Bangalore residents have a high regard for this locality. Famous eateries, pubs, premier universities, IT companies, and malls jazz up the streets of Koramangala. Koramangala also holds some trendy cloth stores to attract young people. Forum Mall is the major centre of attraction in Koramangala. Lavish gated communities are put together with the exquisite shopping malls. Mainly, the Koramangala area has excellent road connectivity with other localities.
Indiranagar
Indiranagar is indeed a high-class area in Bangalore. This neighbourhood flaunts some of the finest breweries in town. Also, the quirky cafes, eateries, and pubs embellish the roads of Indiranagar. A suitable place for party animals! Indiranagar is one of the most flourishing residential and commercial centres in Bangalore. Ramble along in the streets of Indiranagar to eat, drink, and rejoice. Moreover, popular comedy shows and concerts also take place in the lively locality of Indiranagar.
HSR Layout
HSR Layout, a beautifully structured region in Bangalore. A ritzy neighbourhood too! Blissful parks, amazing startups, and broad streets make HSR an attractive suburb in Bangalore. The HSR Layout has also grown as a great residential area in recent years. For refreshing morning workouts, experiencing a calm ambience, and chitchatting with friends, residents move to local parks. To lure the techies further, several cafes and classy restaurants have burgeoned in HSR Layout.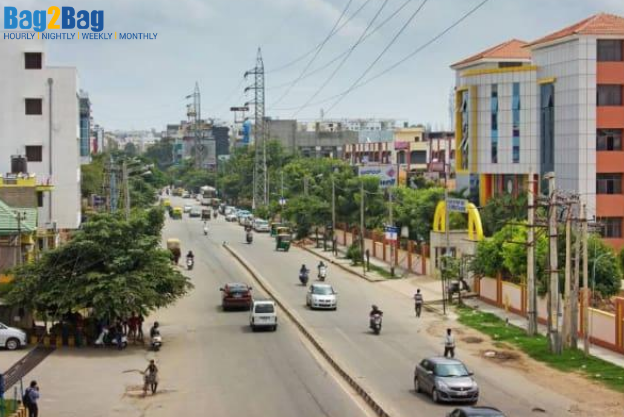 Jayanagar
Jayanagar is one of the most fascinating localities in Bangalore. Captivating parks and majestic trees in Jayanagar offer the serene atmosphere for locals. The area is attractively adorned in its native glamour. The well-famed Bull Temple and Lalbagh gardens lie very close to Jayanagar. The presence of art galleries, cultural and music centres give a unique appeal to Jayanagar. Above all, the fanciful cafes in the area of Jayanagar host the young and stylish crowds.
BTM Layout
Lies in the close proximity to Silk Board, BTM Layout is regarded as the domicile of working professionals. Easy access to other areas highly benefits the residents. Accommodation with moderate prices is available in BTM Layout. Also, the delightful Bannerghatta Zoo Park is nearly 10 km away from BTM Layout.
Whitefield
The neighbourhood of Whitefield is famous for bragging tech giants and IT parks. The malls like Phoenix City and VR Bengaluru find a place in Whitefield. The extravagant apartments and shopping complexes are abundant in the Whitefield area. There is no scantiness for swanky pubs and deluxe food joints in this IT hub. In addition, food and drinks from different parts of the world offer endless joy to the young techies.
Marathahalli
Marathahalli is famous for boasting tech behemoths and major IT Parks in Bangalore. The area also shares excellent connectivity with other parts of the city. The accommodation options are relatively economical where many IT professional live. Fashion outlets and theatres primarily entice the crowds. HAL Aerospace Musem in Marathahalli provides the ultimate aerospace experience for the visitors. Chinnappanahalli Lake Park is another place of interest in the region of Marathahalli.
MG Road
MG Road, most hyped place in Bangalore, is also a hustling suburb. The residential spaces are overpriced in MG Road owing to its geographical location. Shop till you get bored as MG Road offer handicrafts, silk, sarees, and so on. Revel in the vibrant nightlife of MG Road which houses several funky pubs and bars. Importantly, this suburb is lauded for offering delightful dining and shopping experience.
Madiwala
Madiwala is one of the ancient regions in Bangalore. The nearest localities to Madiwala include HSR Layout, Koramangala, BTM Layout, Jayanagar, and so on. The highly acclaimed Madiwala Lake find a place in this region. Madiwala also possesses St. John's Medical College, a pioneering institution in Bangalore. Above all, residential parks, commercial centres, and temples add more charm to Madiwala.
People with diverse backgrounds make their living in the posh city of Bangalore. With several amazing suburbs, Bangalore is certainly the favourite choice for young professionals.
Book Bag2Bag hotels, homes and experiences for quality accommodations from all over India with Bag2Bag.