Introduction
Welcome, wanderlust-filled readers, to the land of quirky anecdotes and chuckle-worthy blogs! Today, we embark on a whimsical journey about service apartments through the realm of family vacations. Here the phrase "Are we there yet?" echoes like a catchy anthem.
Imagine you're on a family vacation, ready to create memories that will outshine even the most epic fireworks display. However, the daunting task of finding a cozy, convenient, and cost-effective abode for your folks can transform even the most enthusiastic traveler into a perpetually eyebrow-raised skeptic. Fear not, for service apartments across India have come to the rescue. They are armed with five mind-blowing benefits that will have saying, "Why didn't we discover this sooner?"
So buckle up, my fellow explorers! Let us uncover the not-so-secret ingredients that make service apartments a vacationer's dream. From their ability to transform your clan into a squad of master chefs to the sheer bliss of having a home during family vacation, these charming service apartments hold the power to make your vacation an experience worth reminiscing about—perhaps with a touch of laughter and a hint of mischief.
Disclaimer: Side effects may include uncontrollable giggles, a sudden urge to book a serviced accommodation immediately, and a newfound ability to impress your family with vacation planning skills.
1) Space Galore
Are you planning a trip to the garden city of India? But tired of squeezing your entire family into a cramped room with barely enough space to swing a cat? Well, fear not, because service apartments in Bangalore offer generous living spaces, ensuring that each member of your family has room to breathe and relax. Say goodbye to the chaos of confined spaces and embrace the luxury of abundant room to spread out.
Oh, did I mention that service apartments often come with the holy grail of parental sanity – separate bedrooms? That's right! Bid farewell to the days of sleeping cheek-to-cheek with a snoring symphony orchestra or waking up with a foot in your face courtesy of your offspring's nocturnal acrobatics. In these luxury service apartments in Bangalore, dreams are sweeter, and toes remain unscathed.
Service apartments in Indiranagar Bangalore are a godsend for families traveling with little ones. The extra space means the kids can run around, unleash their energy, and let their imaginations soar. With the added bonus of multiple bedrooms, parents can finally experience the blissful tranquility of privacy, allowing them to unwind and recharge after a day of family adventures.
So, It's time to spread out, stretch those limbs, and indulge in some well-deserved personal space at the best service apartments in Bangalore. Remember, happy families need room to roam, and the more space you have, the more ridiculous dance parties you can host!
2) Flexibility and Freedom
If you're on vacation in the city of dreams, flexibility is key. Service apartments in Mumbai offer the ultimate freedom to plan your day as you, please. Whether you want to sleep in or rise with the sun, there are no rigid schedules to adhere to. Moreover, the privacy provided by luxury service apartments in Mumbai ensures that you can unwind and recharge without any disturbances, making your vacation truly rejuvenating.
Now, hold onto your hats, because here's the cherry on top: serviced apartments in Mumbai for long stay typically offer access to communal areas, such as pools, playgrounds, or even gyms. Yes, folks, you heard it right – you can finally burn off those extra vacation calories while your little angels splash around or work on their aspiring Olympic careers in the nearby kiddie pool. It's a win-win situation, with a sprinkle of sweat and a dash of chlorine-induced glee.
Want to sleep in without worrying about missing breakfast hours? Done! Need to do laundry after an adventurous day at the beach? No problem! Service apartments in Bandra give you the autonomy to tailor your vacation experience to suit your family's needs. Whether it's enjoying a leisurely breakfast in your PJs or creating a personalized itinerary that lets you explore at your own pace, the freedom offered by service apartments in south Mumbai will make your vacation truly unforgettable.
3) Budget-Friendly Bliss
Family vacations to Delhi can sometimes make a dent in your wallet larger than the Kangra Valley of Himachal Pradesh. Fear not because service apartments in Delhi come to the rescue! These hidden gems often provide excellent value for money, especially for larger families or those planning an extended stay. Instead of booking multiple hotel rooms or splurging on extravagant suites, service apartments in south Delhi can comfortably accommodate the whole family, making it a budget-friendly choice. By opting for a service apartment, you can allocate your hard-earned vacation funds towards experiences and adventures that will create lasting memories.
With the ability to cook your meals and the flexibility of having separate bedrooms, you'll save on dining out and potentially avoid having to book multiple hotel rooms. So, go ahead and splurge on that extra scoop of ice cream for the kids – your wallet will thank you later! 
4) A Kitchen Adventure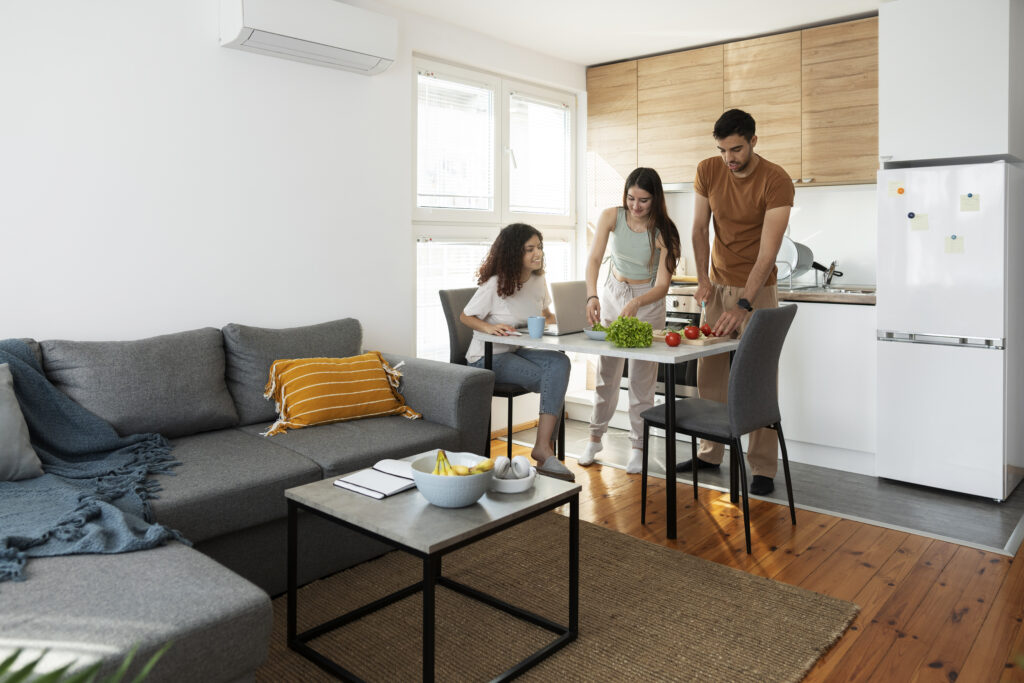 Raise your spatulas if you've ever attempted to feed a hungry family solely with takeout! Don't worry; you're not alone. Eating out for every meal can quickly become exhausting and expensive. Luckily, service apartments with kitchen in Mumbai come equipped with fully-functional kitchens, allowing you to unleash your inner MasterChef and whip up delicious homemade meals. From preparing a hearty breakfast to packing picnic lunches, you have the freedom to cater to your family's unique tastes and dietary needs. Plus, shopping for fresh local ingredients at nearby markets can be a delightful adventure in itself, immersing you in the local culture and flavors.
Your kids might even discover a hidden talent for whipping up gourmet masterpieces (or at least a few edible creations). And remember, laughter is the perfect spice to add to any kitchen adventure! So, say goodbye to the tyranny of overpriced room service and embrace the magic of home-cooked goodness. Who knows, maybe your culinary creations will even make Sanjeev Kapoor reconsider his career choices!
5) Bye-Bye Laundry Blues
Let's be honest, tackling Mount Laundry while on vacation can be a real downer. Who wants to spend precious family time stuck in a cramped laundromat, surrounded by other people's questionable sock choices? Not you, my friend! luxury serviced apartments Delhi come to the rescue with in-room laundry facilities. Bid adieu to those tedious trips to the cleaners and embrace the joy of wearing clean clothes. Plus, think of all the fun you can have while folding laundry together! Sock puppets, anyone?
Conclusion
Say goodbye to limited to cramped quarters and relish in the freedom of sprawling living rooms, bedrooms, and dining areas that give you space to breathe and let loose. And let's not even get started on the joy of having your own washer and dryer. No more desperately trying to dry your clothes with a hairdryer (we've all been there).
Service apartments are the superheroes of family vacations, swooping in to save the day with their amenities and abundant space. So, the next time you plan a family getaway, remember to unleash the mighty power of service apartments. So come and bask in the glory of a truly stress-free vacation. Happy travels! May your service apartment be filled with laughter, love, and the occasional popcorn fight in the living room. Bon voyage!