It's the time of the year to welcome new beginnings, revive good memories, and, most of all, celebrate with sheer enthusiasm. The holiday season arrives to bring so much cheer and colour! The country rings in New Year by lighting up night skies, hosting a karaoke session, and a mirthful family gettogether. How about taking the unusual route this time to celebrate New Year. Plan your New Year Eve in the beautiful setting of lush mountains, still backwaters, snowy hills, and sun-kissed beaches!
Bag2Bag Rooms introduces exciting Christmas and New Year hotel deals to make this holiday season more eventful for travellers. Book hotels now, pack your bags and explore your favourite destination this New Year. You can win a free stay with us! How amazing is this! Also, save up to Rs. 300 while booking hotels in Bangalore with Bag2Bag Rooms. 
Grab your stay at unbelievable rates
Travelling to picturesque places for a New Year bash? Wow! Avail of the magnificent hotel deals and experience a sparkling holiday season. A beautiful stay combined with cosy amenities can elevate the mood of travellers amidst the joyful New year. With pay-per-use hotels, travellers have the luxury to stay for a short time and pay less. Get fascinating Christmas and New Year hotel deals with Bag2Bag Rooms! There are some attractive luxury hotel spaces available as well. Your buoyant New Year celebration awaits!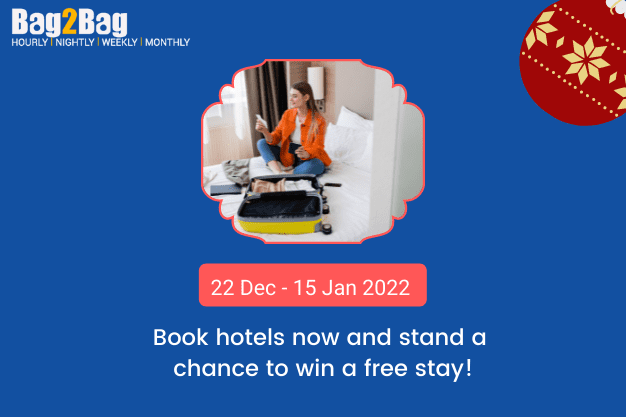 Catch the holiday vibes
This most pleasant and frosty season entice travellers to plan their holiday. The enthralling winter destinations in India presents the ideal setting for the New Year celebration. Get playful in the snow, show off your skiing skills, and rejoice in the chill atmosphere. Travellers on a pleasure trip, couples on a honeymoon, family trippers, etc., can look for better convenience while booking hourly hotels. Even if you go on a budget trip, short stay hotels will come in handy. Plus, the Bag2Bag New Year and Christmas hotel deals will delight travellers.
A short and rewarding stay
Choose from an extensive list of hotel properties and wait for a truly amazing stay experience! Bag2Bag Rooms let travellers relish a flexible and brand-new accommodation across spectacular places in India. The irresistible hotel deals urge you to travel anywhere soon! It's true!! You can seize a free stay with us. Gear up for a unique and exhilarated celebration like never before. The presence of pay-by-hour hotels will make for a rewarding holiday! Grab luxury hotels just for a few hours and treat yourself to world-class hospitality.
Vacation plan in mind? Trust Bag2Bag Rooms for booking a stay!! The pleasing hotel deals will turn this New Year Eve further colourful!!