Gurugram, a distinctive cosmopolitan, has grown leaps and bounds over the last few decades. Lying in the vicinity of Delhi, Gurugram is a flourishing financial and tech hub in India. The establishment of high-rise buildings, nightlife places, business centres, and IT Parks have led to the meteoric rise of the city. Beyond the fabulous skyline and hi-tech IT parks, Gurugram has evolved into a stunning tourist attraction. Premium cafes and restaurants in Gurugram offer an ideal place to socialize during the evening. Travellers can plan a quick weekend trip to luscious natural escapes present near the city. Locals usually throng the amusement parks to experience unlimited thrill and excitement. You will be spoilt for choice when you spend 24 hours in Gurugram.
Morning treats in quirky cafes
Gurugram has several eccentric cafes that serve delicious breakfast items. Enjoy the scrumptious egg dishes, Pancakes, French Toast, grilled varieties, etc., while sitting in the cosy ambience. Craving Indian food? You can gorge on that as well to fill your tummies. The places that have earned a reputation in the city include The Joint Cafe, Madison&Pike, Nashta, Di Ghent Cafe, Another Fine Day Cafe, and many more. Head off these popular eateries to fuel your body to keep exploring the city the entire day.
A quick visit to Heritage Transport Museum
The place should be on your list if you have a penchant for exploring vintage car collections. An impressive display of unique and timeless transport vehicles will awake your curiosity. Get to know the evolution of transportation in India. Beyond vintage cars, the museum also showcases railways and aircraft. Spend quality time with your kids at one of India's complete heritage transport museums.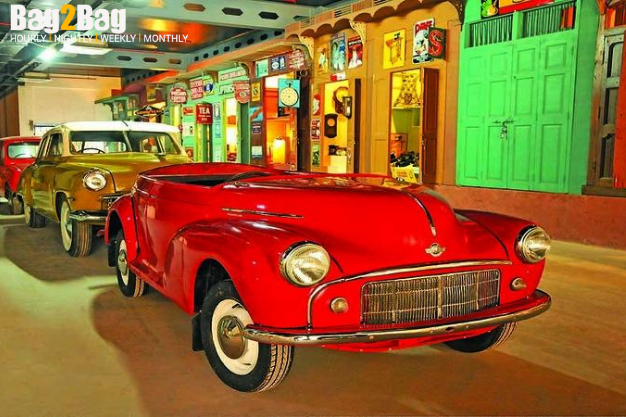 Time for Mall-hopping
After relishing the classic car exhibition, visit the astonishing malls in the city. Gurugram houses some of the biggest and most magnificent shopping malls in the country. One-stop destination for shopping, dining, and entertainment. Indulge in retail therapy while munching on appetizing dishes in the food court. Your kids can have fun in the gaming zone. Time flies when you visit the famous malls in Gurugram. The most exciting malls in the city include Ambience Mall, MGF Metropolitan Mall, and DLF Central Mall.
Avail a short stay
To enable travellers to book hotels for a few hours, Bag2Bag Rooms offer hourly hotels in Gurugram. A nice way to relax during your day vacation and stay fresh to explore more. Get all the contemporary facilities and enjoy your hourly stay in the ideal space. When you can pay hourly for the hotel stay, you will save more.
Peaceful evening in the Leisure Valley Park
The thick swathes of trees and gentle breeze will calm your mind during the evening. This blissful park is located right in the heart of the city. Escape the bustling city life and feel relaxed amidst the pleasant setting. A jogging path, kid's area, attractive garden, musical fountain and a tiny cafe will make for a laid-back evening.
Catch the late-night vibes
Party lovers can hide away at night in the scintillating party places. Go crazy and fill your nights with pure ecstasy! Innovative cocktails, peppy music, vibrant decors, etc., will bring colours to your life. To ensure a grand celebration at night, Gurugram even offers theme-based pubs and nightclubs. Vapour Bar Exchange, After Stories, Soi 7 Pub & Brewery, Brew Buddy, etc., are ruling the nightlife scenes in Gurugram. End your trip on high!
This ever-flourishing city has a lot to offer for all travellers. Spend 24 hours in Gurugram to experience a slice of paradise.