Table of Contents
Introduction
Naldehra
Kufri
Chadwick Falls
Step into the romantic resorts
Kalka Shimla Toy Train
The Ridge
Gaiety Theatre and Mall Road
Summary
Introduction
Yearning to spend a romantic weekend in Shimla? A weekend with your loved one amidst paradise-like backdrops brings the spark back into your relationship. Ideal weather, views of the apple orchards and thick pine valleys will let you experience the stunning romantic escape in Shimla. Capture incredible moments like playing with snow and indulging in adventures with your partner. A romantic holiday can't get more magical than visiting Shimla. Check out this guide on spending a couple's weekend in Shimla.
Naldehra
Start your romantic vacation in Shimla with a dose of adventure and a spiritual experience. Naldehra is a quaint hill station in Shimla tucked away in the soaring Himalayan Ranges. The scent of wildflowers, fun-filled golf sessions, Psychedelic views of the pine valleys and other nature experiences await you in Naldehra! The captivating Sutlej River pass through Naldehra to enhance its charm. Naldehra's 18-hole golf course remains one of the prettiest golf courses in India. Golf enthusiasts can spend a great day playing and admiring the picturesque nature sceneries. Jump on horseback to explore the pine-fringed valleys and forests in an unusual way. Offer prayers at the nearby Mahunag and Mahakali Temples after a leisurely round of golf.
Kufri
Kufri flaunts the majestic Himalayan peaks on the backdrop, which enchants modern couples. Set at an altitude of 7000 ft, Kufri boasts one of the highest wildlife habitats and theme parks. Walk hand in hand with your partner, throw snowballs and have fun along the way. Fall in love with the magnificent snowscapes and look for the ultimate skiing experience. Kufri offers new adventures such as tobogganing, heli-skiing, horse riding, ice skating, etc. Try these adrenaline-rush activities, catch the views of the dense pine valleys and get lost in the wilderness.
Visit this postcard-like hill station in Shimla to keep the spark alive in your relationship. Kufri offers verdant greeneries and snow-covered peaks during the summer and winter seasons. Head to the Kufri Fun World to enjoy thrilling games. Picture yourself amidst the panoramic hill views on Green Valley en route to Kufri.
Chadwick Falls
Snuggled amidst the pristine nature at 1500 m, Chadwick Falls inspire romance with its impressive sceneries. Crystal-clear waters plummet down the soaring mountains to form a divine pool. Dip in the waterfall to get recharged instantly. Blooming flowers with their sweet aroma add to your romance. Hike along the bumpy rocks to absorb the tranquillity with your dear one. The setting of the Chadwick Falls is mesmerizing with pine and deodar coverings. Watch the sky exuding magical hues during the sunset. Adventure-loving couples cannot miss this romantic spot in Shimla. Visit the nearby Summer Hill and Luturu Mahadev Temple to end your first day of adventure in Shimla.
Step into the romantic resorts
Bag2Bag offers romantic resorts in Shimla to delight couples. Imagine waking up to overgrown forest views or snow-filled peaks from your luxury living room. The rooms feature luxe decor and come appointed with couple-friendly amenities. The travel desk at the resort can help you explore the hidden gems of Shimla. Relish the unparalleled leisure experiences to establish a strong bond with your loved one. Sit on the balcony to catch the best views and enjoy your tea. Treat your tingling taste buds to gastronomic cuisine, take a splash in the infinity pool and get outdoors to enjoy local activities. A snowy paradise for young couples!
Kalka Shimla Toy Train
Are you smitten with taking a scenic train journey after watching your favourite romantic shows? Now, it's time to experience it for yourself. Kalka Shimla Toy Train meander through 100 tunnels, 800 bridges and several bends to cover 60 miles. Experience epic love and adventure as it takes 5 hours to accomplish this journey. Hop on this toy train to capture the heavenly sight of the mountains and valleys. Recreate the epic love scenes, indulge in fun banter and stand in awe of the sleepy valleys with your dear one. Get early morning on Sunday to tick off this unique travel experience. What's a better way than this to kickstart a new chapter in your love life?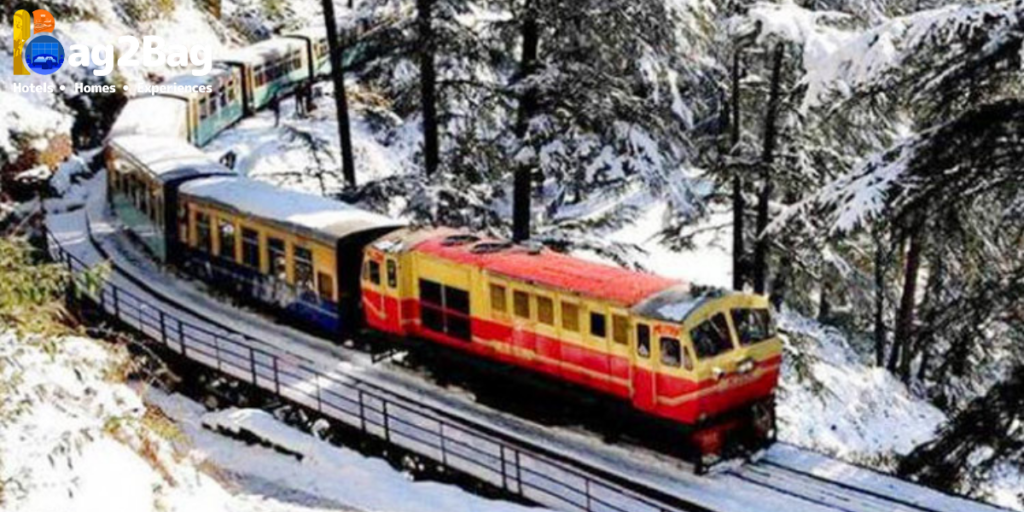 The Ridge
After experiencing a fulfilling romantic train journey, visit the ridge for an authentic Shimla holiday. The Ridge remains the hill lover's paradise and hotbed of colonial history in Shimla. Take a stroll in the extensive streets of the ridge to shop to your heart's content, capture the beauty of snow-clad peaks and reserve romantic dinners in hip cafes. Soak in the exuberant charm besides feasting your eyes on the rolling hills. The Gothic-style architecture reflects in the Christ Church. Get access to popular attractions such as Mall Road, Scandal Point and Gaiety Theatre. The Ridge is full of life with new-age eateries, shopping centres and quirky bars.
Gaiety Theatre and Mall Road
Completed in 1887, Gaiety Theatre oozes a vivid Gothic-style architectural display and remains the heritage hub of Shimla. Gaiety Theatre is one of the oldest surviving theatres in India. It preserves the aboriginal art and culture of Himachal. Take part in vibrant cultural fairs, and marvel at the exquisite art in the gallery. Couples having a penchant for arts and music can enjoy great moments in the Gaiety Theatre.
Mall Road is a lively shopping and photographic spot in Shimla. Colonial buildings and a snow backdrop beautify this destination. Tiny shops on the road sell products that involve dexterous craftsmanship. Head to the eclectic cafes to savour comfort food for cool weather. Spend a couple's weekend in Shimla discovering its ethereal charm!
Summary
Look out for this ideal weekend romantic guide to Shimla. Pack your bags now!! Keep your relationship fresh! A couple's weekend in Shimla filled with romance and thrilling adventures.