The cultural capital of Maharashtra, Pune, is a world-class city in India. It offers a vibrant city life, which is nothing less than Mumbai. Pune never fails to amaze travellers with its ostentatious palaces, ancient marvels and thrilling escapes. The city is home to several global tech giants and automotive industries. The legendary food establishments in the city can evoke serious nostalgia. When you gear up to enjoy your next weekend break, consider booking these hourly hotels in Pune with Bag2Bag Rooms.
Download Bag2Bag Android and iOS apps to book hotels with a few simple taps!
Lemon Tree Hotel, Viman Nagar
The upscale area of Viman Nagar lies close to Pune International Airport. Book your hourly stay in the Lemon Tree Hotel to experience the supreme luxury. An exquisite range of amenities and fabulous decors will let you immerse in luxury. Grab this 5-star property near the airport and loosen up for a few hours. There are several extraordinary things to do near the hotel, such as sampling local delicacies, going on a shopping spree, etc. There can't be a better stay option for business travellers visiting Pune.
Price: Rs. 2399 for 3 hours
Ratings: 4.2/5
Grand Tamanna Hotel, Hinjawadi
Hinjawadi draws in tech geeks from distant places as it has evolved into a renowned IT hub in Pune. Travellers can find a cluster of business parks, fancy restaurants, nightlife places, etc., in this flourishing locality. The exclusive location of the Grand Tamanna Hotel makes it a preferable choice for travellers. Book this 4 star hotel in Pune for different reasons with Bag2Bag Rooms, where you can get dazzling experiences.
Price: Rs. 2000 for 3 hours
Ratings: 4.1/5
Hotel Sapna, Shivajinagar
Shivajinagar is known as the premier educational hub in Pune. Several food joints and shopping centres make it one of the happening places in the city. Hotel Sapna caters specifically to travellers looking for a budget stay. Visit the majestic Aga Khan Palace and Darshan Museum for a different experience. This property allows couples with local ID. Hotel Sapna is considered one of the best hourly hotels in Pune.
Price: Rs. 1330 for 3 hours
Ratings: 4.0/5
Download Bag2Bag Android and iOS apps to secure attractive hotel deals!
Hotel Celebrations Inn, Chinchwad
Chinchwad is a pioneering industrial area in Pune. Demand for good quality accommodation soars after the rapid growth of the locality. Situated in the heart of Pune, Hotel Celebrations Inn becomes the ideal stay option for business and leisure travellers. You can book this hotel for a short stay, hourly stay, and day use. Hotel Celebrations Inn flaunts a list of cool amenities to deliver the consummate service for travellers.
Price: Rs. 758 for 3 hours
Ratings: 3.4/5
Hotel Royal Inn, Baner
Baner has witnessed a rapid transition from a humble suburb to a primary IT hub in Pune. The sound infrastructure amenities continually appeal to millennial travellers. To experience a hassle-free stay in the locality, choose Hotel Royal Inn. Feel the joy of staying in this 3 star hotel without splurging! The main tourist attraction near the hotel is Dagadusheth Halwai Ganapati Temple.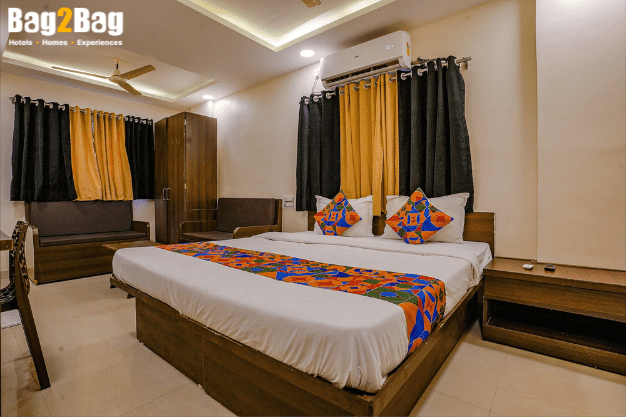 Price: Rs. 1044 for 3 hours
Ratings: 3.8/5