Introduction
India is one such country that always makes an impression on its visitors. It has everything from towering mountain ranges to pristine beaches, delicious local delicacies to brilliant ancient architecture. This blog will guide you to some of the best places to stay in India which will tick every travel goal on your bucket list.
India is blessed with some of the world's most beautiful landscapes. These include everything from Himalayan Mountains to the tropical beaches of Goa that can fulfill your dream of adventure travel. If you are on a spiritual journey then travel to India. This is because India is home to some of the most important religious sites in the world. From the holy city of Varanasi to the stunning temples in South India, you'll have the chance to immerse yourself in a rich spiritual heritage. This variety of experiences spread across the country makes it an ideal destination for a solo trip in India.
So come here for an immersive and memorable travel experience in the year 2023. The diversity of India will push it to the top of your travel bucket list. So come along and explore the exotic destinations that will enrich your travel bucket list with a holistic experience during your trip to India.
Visit the majestic mountains of India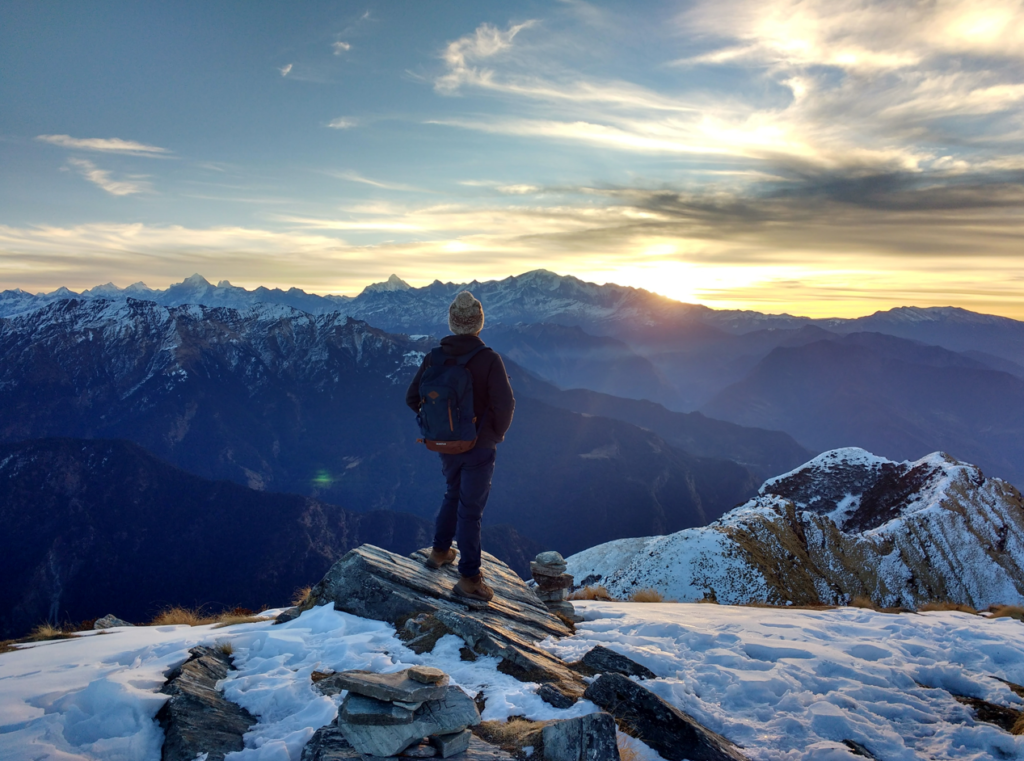 Traveling to the mountains of India is an experience like no other. The country is home to some of the highest peaks in the world. This includes the mighty Himalayas ideal for travelers seeking adventure, peace, and beauty. You can experience this magical world amidst majestic mountains from the best homestays in India.
If you're looking for the ultimate mountain experience, the Himalayas are a must-visit. With peaks towering over 20,000 feet, these mountains offer some of the most challenging treks in the world. So, travel to Ladakh, Manali, and Darjeeling and stay at Bag2Bag's aesthetic cottages in India in these locations.
In Ladakh, you can explore the rugged beauty of the high-altitude and visit the ancient monasteries that dot the landscape. Manali, on the other hand, is known for its lush forests, flowing rivers, and vibrant culture. Darjeeling is famous for its tea gardens, scenic views, and colonial heritage. You can have a comfortable stay in these winter lands with Bag2Bag's cozy stays here. You can choose from a wide range of hotels, homestays, service apartments, resorts, cottages, villas, and guesthouses here. These will offer you a flexible, affordable, and comfortable stay. Just download the Bag2Bag android or iOS app to book your ideal stay across India today.
For those seeking a more relaxed mountain experience, the Western Ghats of South India is a great option. The hill stations of Ooty, Coorg, and Munnar are popular destinations here, offering a cooler climate and stunning views. These mountains are also home to some of the luxury resorts in India. These resorts can offer you a pleasant stay surrounded by lush greenery.
No matter what kind of mountain experience you're looking for, India has something to offer. So pack your bags, grab your hiking gear, and get ready for an adventure like no other from Bag2Bag's affordable stays all over India.
Explore the tropical beaches of India
One of the most popular tourist attractions in India is its beaches. From Goa to Kerala, the Indian coastline has plenty of gorgeous beaches. These beaches offer a perfect blend of sun, sand, and sea. From serene and calm beaches to bustling and lively ones, this country has it all alongside beautiful resorts in India.
Known as the "Party Capital" of India, Goa is a popular destination for beach lovers. From the famous Anjuna Beach to the quieter and serene Palolem Beach, Goa offers a variety of options for every type of traveler. You can enjoy the chill vibes of the beach from Bag2Bag's affordable homestay in Goa for a month. Bag2Bag offers pre-discounted rates for such longer stays ensuring a budget-friendly stay for its users.
The city of dreams, Mumbai is also home to some of India's finest beaches including the popular Juhu Beach and the serene Marine Drive which you can view from luxurious sea-facing service apartments in Mumbai. Similarly, Kovalam which is located in the southern state of Kerala offers its travelers stunning sunsets, clear waters, and a stay in traditional fishing villages. Travelers can have an immersive experience here from Bag2Bag's lavish villas in Kerala.
These are just a few of the many beautiful beach destinations in India. Whether you're looking for a peaceful holiday, a vibrant party scene, or a spiritual escape, India's beaches have something that will surely meet your expectations.
Marvel at the ancient architecture of India
India is a land of rich cultural heritage, and its ancient architecture is one of the major attractions for travelers. From towering forts to intricately carved temples, the country boasts numerous monuments that have stood the test of time. The country has many antique architectural that are part of the UNESCO World Heritage site.
Hampi is one such site located in the state of Karnataka and is famous for its ancient ruins of the Vijayanagara Empire and stunning temples. You can explore the stunning architecture here from Bag2Bag's Hampi resorts. Similarly, Ajanta and Ellora Caves in the state of Maharashtra are famous for their rock-cut temples and monasteries. These caves have been around since 2nd century BC and the 10th century AD.
The Mahabodhi Temple in Bodh Gaya, located in the state of Bihar is another important element of Indian cultural heritage as it is considered to be one of the most important Buddhist pilgrimage sites in the world. This temple was built over the site where the Buddha is said to have achieved enlightenment. You can explore this temple from Bag2Bag's best homestays in India.
These travel destinations offer a unique opportunity to witness the ancient architectural marvels of India and gain a deeper understanding of the country's rich cultural heritage. Whether you are an architecture enthusiast or just looking for a unique travel experience, these destinations are a must-visit. So plan a trip to these architectural marvels from Bag2Bag's best budget hotels in India.
Experience spirituality from holy destinations in India
India offers a wealth of opportunities for spiritual growth and introspection making it a popular destination for those seeking spiritual enlightenment. The country is dotted with numerous spiritual destinations that attract millions of tourists from all over the world which include Haridwar, Varanasi, Rishikesh, and so on.
Also known as Kashi, Varanasi is considered one of the holiest cities in India. The city is famous for its Ghats, which are a series of steps leading down to the river Ganges which are an ideal place for meditation and spiritual reflection. You can soak in this tranquility from a 5-star hotel in Varanasi during your stay here.
Similarly, Haridwar is one of the seven holiest places in Hinduism it is also located on the banks of the river Ganges which is famous for its bathing ghats and the magnificent Har Ki Pauri Temple, which is dedicated to Lord Vishnu. Travelers visiting this holy destination can expect a comfortable stay at Bag2Bag's 5-star hotel in Haridwar.
Known as the "Yoga Capital of the World," Rishikesh is a small town in the northern state of Uttarakhand that attracts thousands of yoga and meditation enthusiasts each year. This town is home to several ashrams, which offer spiritual teachings and guidance to visitors. With Bag2Bag you can also find a comfortable homestay in Rishikesh near ganga river to have a cozy stay full of peace, yoga, and meditation.
Whether you are a seasoned traveler or a beginner, each of these destinations is sure to leave a lasting impression on your soul and provide you with a unique and meaningful spiritual journey.
Conclusion
Whether you're interested in exploring its rich culture, sampling its delicious cuisine, admiring its natural beauty, or seeking spiritual fulfillment, there's no shortage of reasons to travel to India.
The country has a wide collection of mesmerizing ancient architecture representing its rich cultural heritage. All in all, India is a diverse collection of travel destinations that will give you a holistic experience of nature, culture, architecture, food, and so on. This makes India a top travel destination that needs to have the top spot on your travel bucket list for 2023.