October is when the festive season begins in India. So, travellers throng the vibrant cities of India to make the most of the long weekend. Also, salubrious weather hit the perfect note to inspire travellers to take an exhilarating trip across the beaches, hill stations, and natural wonders. There is no better time to satisfy your wanderlust. From booking hotels for a short stay to renting out the best homestays, choose an ideal accommodation with Bag2Bag Rooms. These are the top 10 places to visit in October in India.
Jodhpur
Tagged as the Blue City, Jodhpur is where travellers can get an eyeful of rich tradition. The monumental forts and palaces in the city unfold the valiant past of the Marwar Kingdom. Houses exhibit an attractive hue of blue along the Thar desert, making it a picture-perfect postcard. To experience the royal legacy of Jodhpur, drop in at Mehrangarh Fort, Umaid Bhawan Palace, Chamunda Mataji Temple, Phool Mahal, etc. Shop to your heart's content in the colourful bazaars that sell priceless crafts and florid textile fabrics!
Goa
Goa, a party lovers' paradise, is the ultimate destination for all seasons. Churches and colonial-style architecture lend an archaic charm to the city. Sandy beaches, an unbroken line of beach shacks and shopping places add to the fun-loving people of Goa. Travellers can't experience a nightlife that is as cool and boisterous as Goa. Also, there is another side to Goa, which showcases peaceful villages and gorgeous waterfalls. Visit Goa this October and feed your adventure cravings with an assortment of water sports. Bag2Bag Rooms offer hourly hotels in Goa to facilitate a convincing stay for wanderers.
Bandhavgarh National Park
Bandhavgarh National Park is one of the phenomenal Indian wildlife conservation centres, which acts as a habitat for several endangered species. Go on a Jungle Safari to immerse in the epic wilderness! While the park boasts a range of exotic birds and animals, Royal Bengal Tigers hog the attention. Sprawling over 105 sq. km, Bandhavgarh National Park encloses impenetrable forest areas and rare medicinal trees. Pass on the wildlife lessons to kids closer to nature. Wildlife addicts cannot miss this spot in Madhya Pradesh.
Hampi
Exhibiting the ruins and architectural grandeur of the bygone era of the Vijayanagar empire, Hampi remains the perfect hideout spot for history fanatics. This ancient city admirably stretches out on the banks of the Tungabhadra river. Step into this timeless wonder to take a peek into iconic monoliths and Dravidian-style temples. Travellers would fancy spending an offbeat weekend amidst this city rooted in history. Visit the Archaeological Museum to discover the treasure trove of Hampi. Also, take home several artistic handicrafts and souvenirs from the Hampi Bazaar. Slacken up on the shores of Hippie Island while experiencing audacious water sports activities.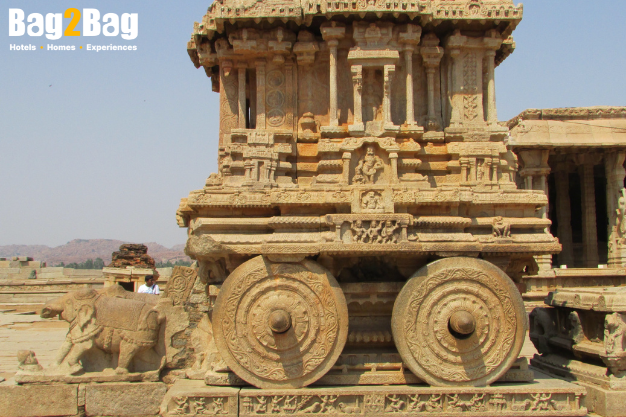 Jaisalmer
Jaisalmer is the place to capture vibrant Rajasthan culture in full glory. Grand Havelis, crammed bazaars, enticing lakes, and imposing forts embellish the city. It earned the name "Golden City" because of its golden hummocks. Jaisalmer Fort decks itself in the golden shade, where travellers can find stalls and hotels. Grab a boat ride to cruise through the captivating Gadisar Lake and absorb the regal beauty of Jaisalmer. Go on an authentic camel safari and sleep under the ethereal night sky.
Digha
A tantalising beach town near Kolkata, Digha boasts incredible marine life. While chilling out on the sandy beaches, travellers can witness the sun casting magical shadows on the azure water. Set gorgeously along the Bay of Bengal Coast, Digha flaunts several pristine and less-crowded beaches. The worth visiting places in Digha include Amarabati Park, New Digha Beach, Talsari Beach, Marine Station, Digha Science Centre, etc. Try seafood delights in Digha to comfort your taste buds. A relaxing weekend escape!
Shimla
Cradled on the snow-kissed peaks of the Himalayas, Shimla remains one of the bucket list hill destinations in India. Green meadows, laidback ambience, enthralling mountain views, etc., will combine to offer a blissful holiday retreat. The architecture in the city exudes dazzling colonial charm. Set out for a soothing food experience in the posh cafes and rejoice in the rainy weather. Mall Road shopping is the intriguing thing to do in Shimla. You can plan a quick weekend getaway in this idyllic city from Delhi and Chandigarh. With Bag2Bag Rooms, book extraordinary resorts in Shimla.
Manas National Park
Being a UNESCO Natural World Heritage Site, Manas National Park in Assam continues to draw in avid wildlife explorers. Along with Kaziranga National Park, it is one of the most frequented places to encounter majestic wild creatures. Manas National Park maintains perfect balance in the ecosystem where several beautiful animals co-exist. Travellers can catch sight of Asian Elephants, Indian Tigers, Indian Rhinos, Clouded Leopards, Golden Langurs, etc. Also, bird watchers can relish spotting adorable birds in the backdrop of dense greeneries. Rushing waters in the Manas River make it ideal for white water rafting. Manas National Park is one of the incredible places to visit in October.
Nainital
Nuzzled up against the splendid Kumaon Ranges, Nainital beckons travellers to soak in its scenic setting. Head to the viewpoints in the city to catch the panoramic beauty. Experience the enchanting shikara ride on the Naini Lake and get the eye-popping views of seven hills. Visit the Nainital Zoo set in great heights to enjoy the rich flora and fauna. Travellers can find a slew of colonial-era buildings while wandering across this city. Pick from a wide range of charming hotels in Nainital through Bag2Bag Rooms.
Bir Billing
A tiny hamlet in Himachal Pradesh, Bir Billing, is the go-to destination for adventure seekers. Bestowed with pristine natural beauty, travellers lean towards this spot to practice wholesome living. Treat your soul with a de-stressing Yoga and meditation session amidst the tranquil surroundings. Saunter across the rustic villages, accomplish arduous trekking trails, go for adrenaline-pumping paragliding activities, etc.
Bookmark these places to visit in October and enjoy every moment of your trip!