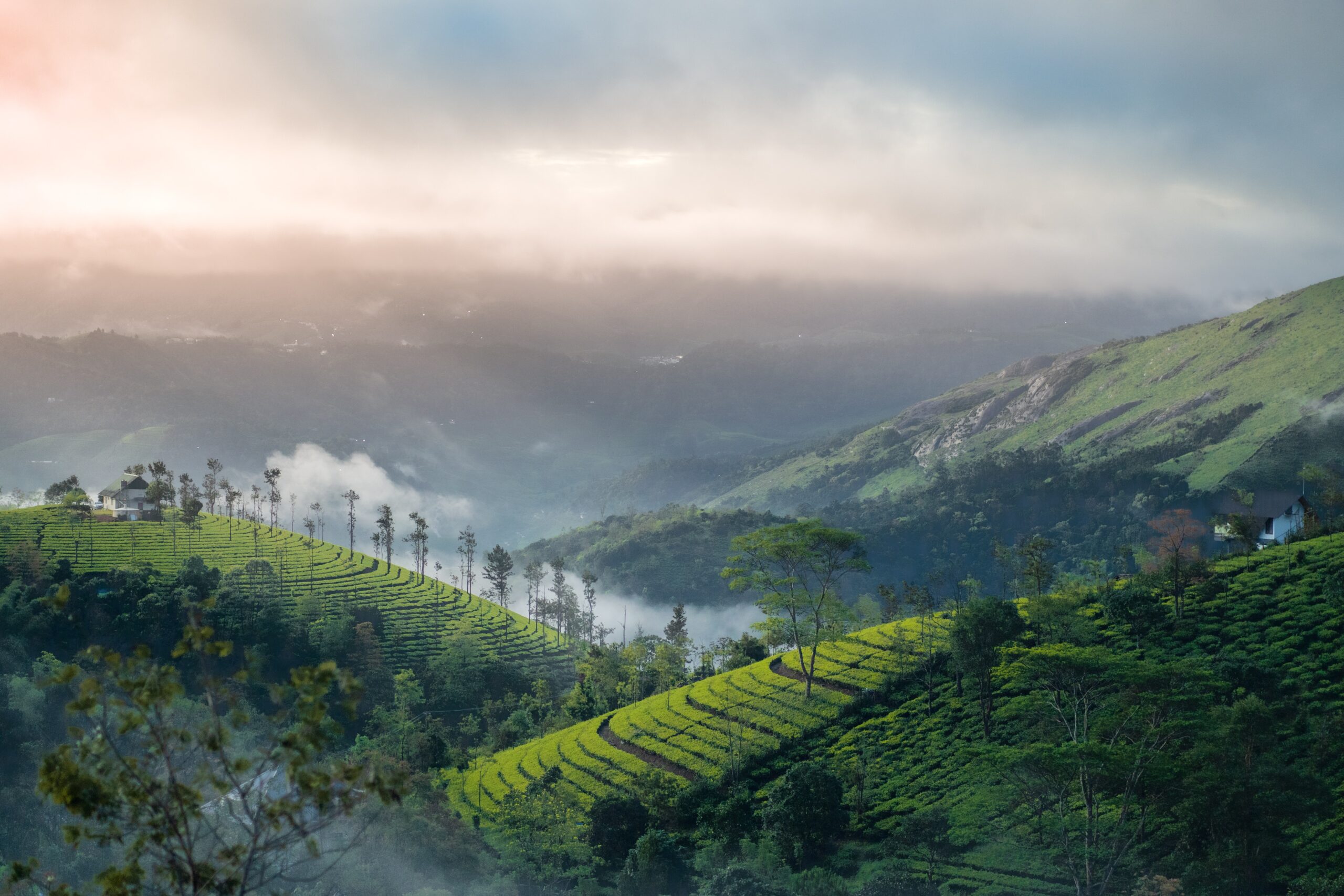 Introduction
Summer vacation in Munnar is the perfect time to unwind, relax, and escape the boring routine of everyday life. This is the time when the scorching sun is out and ice cream vendors are everywhere. Hence everyone craves a cool escape to the hills and mountains in order to avoid the summer heat. While many beautiful hill stations in India can give a chill winter vibe during summer months, none of them match the beauty of the lush green hill station of south India that is Munnar.
Munnar is an ideal summer vacation destination for anyone looking to escape the heat. It is also the perfect spot to explore the natural beauty alongside the cultural richness of India. From exploring tea plantations, trekking, to enjoying local cuisine, there are plenty of things to do on a Munnar trip. One advantage of activities here is that they caters to the interests of all ages. In this blog, we will discuss a few interesting characteristics of Munnar. These characteristics will tempt you into planning a summer trip to this enchanting hill station for a fun getaway with your family.
Why spend summer vacation in Munnar
Munnar is a picturesque hill station that boasts of aromatic tea plantations, mesmerizing views, and pleasant weather. The hill station offers the perfect blend of adventure, nature, and tranquility. You can enjoy all three during your Munnar staycation making it the ideal destination for a family summer vacation.
During the summer months, the scorching heat can be unbearable in many parts of India. One must travel to Munnar during these summer months. It gives an opportunity to enjoy its cool and refreshing climate that is persistent all year round. This is possible thanks to its elevated position in the Western Ghats mountain range. The average temperature in Munnar during summer is around 15-20°C. This makes it an ideal destination for those who want to escape the heat and enjoy a comfortable climate.
The hill station of Munnar is well known for its sprawling tea plantations located amidst mist-covered hills. Here you can feel close to nature by waking up to the sounds of birds chirping as you enjoy your freshly made tea in the morning while watching the mist rise over the hills. You may also take a stroll through the tea gardens or trek up to the nearby hills to witness the sunrise over the mountains.
Munnar is also a town with a rich heritage blending Tamil, Malayalam, and Kannada cultures creating a perfect harmony. Families traveling with children can take this as an opportunity to expose their kids to the diversity of various Indian cultures by visiting the town's temples, museums, and historical sites. Munnar is also well known for traditional dance forms, such as Kathakali and Mohiniyattam which you and your little ones can learn more about by attending cultural shows and festivals here.
Activities for summer vacation in Munnar
There are plenty of things to do in this hill station, and here are some of the most enjoyable activities to do in Munnar that you can do with your family.
This southern hill station has some fun, exciting, and thrilling activities that are perfect for a summer vacation. The town has several trekking trails, which are perfect for outdoor enthusiasts. Munnar trekking adventure is an excellent way to explore the town's natural beauty and get some exercise. Some of the popular trekking spots here are Anamudi Peak, Meesapulimala, and Chokramudi. These treks range from easy to difficult levels which you can choose depending on the fitness level of your family.
If trekking is not your cup of tea, Munnar also offers other activities such as tea plantation tours, wildlife safaris, and adventure sports. The tea plantation tour is a must-do activity in Munnar. Here travelers are given an opportunity to learn about the tea-making process with a chance to sample some of the best teas in the world. Exploring these exotic tea plantations, visiting tea factories, learning about the tea-making process, and even tasting different types of tea can be an excellent experience that you can enjoy with your family.
Jeep safari Munnar is another popular activity here that travelers can do at Eravikulam National Park and the Chinnar Wildlife Sanctuary. Here they can spot exotic animals such as elephants, tigers, and leopards. Other adventure activities in Munnar include rock climbing, rappelling, paragliding, and so on making it a paradise for adventure-loving families.
Accommodation for summer vacation in Munnar
Since Munnar is an ideal destination for a family vacation, there are a variety of accommodations available here for families to stay in. This diverse array of accommodations is available in Munnar to suit families' differing needs.
Homestays
One highly desired form of accommodation here is a homestay in Munnar. These are perfect families who look for a warm and friendly environment during their travels. The host of these homestays will treat you as if you are part of their family making you feel at home. There are a wide array of homestays available in Munnar for travelers to choose from. Some of the most popular homestays here are Snowdrops Homestay, Drizzle Valley Cottage, and Vishnu Devi Inn which travelers can find on Bag2Bag hotels and homes.
These Munnar budget homestays are also very child-friendly as the hosts here are happy to provide activities and entertainment for them. Here children will get to experience the essence of local living by helping out with activities like cooking and gardening. Munnar home stay with kitchen also lets its guests experience its rich culinary tradition with home-cooked local cuisine, including appam, puttu, and kadalakari, giving the guests an opportunity to bring home a taste of Munnar.
Resorts
Another popular form of accommodation here is Munnar resorts for family. These establishments offer premium quality family rooms, suites as well as cottages that are spacious enough to accommodate large families. Many of the rooms present here at resorts in Munnar are interconnected with neighboring rooms which are ideal for families with older children who want some privacy. Bag2Bag presents a variety of such opulent resorts in Munnar which include Black Berry Hills, Pleasant Hill Resort, Santhi Hill View, La Flora Spicewood, and many more which offer a luxurious stay in Munnar.
The availability of activities for kids is one of the important factors when traveling with family, which is available at Munnar resorts with pools. Swimming pools at these resorts are specifically designed for children with a shallow depth and water slides to keep children entertained during the hot summer months.
Most 5 star resorts in Munnar tend to have elegant spas that offer a range of treatments like massages, facials, and body wraps that parents can enjoy while the kids are engaged in other activities. The dedicated kids' play area, babysitting services, and special activities such as magic shows, puppet shows, and storytelling sessions help to keep kids engaged.
These top resorts in Munnar also house top-notch restaurants which usually have a dedicated kids' menu that offers child-friendly dishes such as pizza, burgers, and fries. Additionally, these resorts also have buffet-style restaurants that offer a wide range of cuisines, which is perfect for families with picky eaters.
Conclusion
Munnar is without a doubt an ideal destination to spend your summer vacation with family. Not only is the hill station filled with aromatic tea plantation trails but it is also gifted with adventure sports and a rich cultural heritage. A summer vacation at this cozy little hill station is the best way to beat the heat this summer. However, if you are concerned about finding a stay here then head to Bag2Bag hotels and homes. Here you will find an array of diverse accommodation options including, hotels, homestays, service apartments, some of the best resorts in Munnar for family, and many more. So book an accommodation of your choice with a few clicks of buttons and head out to spend an enriching summer vacation with your family in the picturesque hill station of southern India, Munnar.