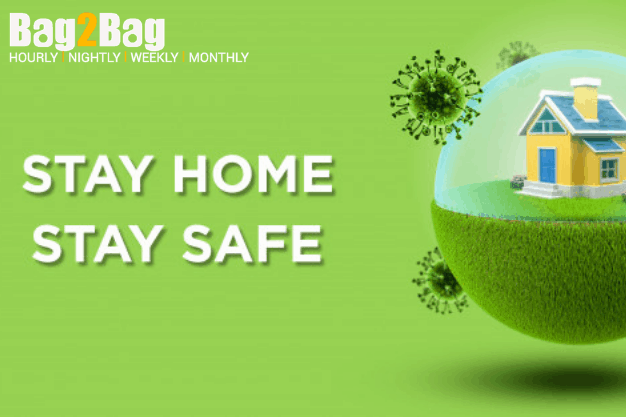 While we haven't recovered yet from the havoc of 2020, the second wave has hit us severely again in India. The current situation looks a lot more grievous as medical professionals are stepping up beyond limits to save the lives of fellow people. The pandemic cases have been surging at a dangerously fast pace to make everyone frightened. The second wave has struck India like a Tsunami. The deficiency of oxygen and other medical goods have further aggravated the situation. Several states in India have imposed a complete lockdown to bring the pandemic under control. Stay home and stay safe during these difficult times.
Relishing nature at the quaint hill stations or enjoying a night out in the metro cities is not possible at this stage. Just curb your travel urge and plan for where to go next when travel resumes again.
Stay safe indoors
To endure this tough phase, we have no option other than to stay at home. This not only prevents everyone from exposure to pandemic but also makes things easier for healthcare workers. Step out only for the important reasons and follow necessary safety precautions like wearing a mask, maintaining a social distance, sanitizing hands, and so on. Even if you stay indoors, wash your hands regularly to lower the risk of infection.
Don't press the panic button
Instead of spreading the rumours and fear about the pandemic, stay home and spread awareness. Don't stress it out while locking yourself indoors even though the situation looks grim. There are many ways through which you can find relaxation and cope with the pandemic. Carry your day-to-day work with more passion, spend time with your family, play with your kids, read books, watch movies, etc to keep you engaged during this tough time.
Plan your next adventure
The current situation may confine everyone inside homes with no chance for travelling. But, keep your travel passion alive and wait for things to get better. Whether it's trekking in the Himalayas or unwinding in the scenic Kashmir, think of where to go next. The options are endless when it comes to travelling in India. The country boasts many incredible places filled with diverse culture, interesting people, and unimaginable beauty. So, choose your place that suits your taste and enjoy a memorable vacation. Book Bag2Bag hotels, homes and experiences for quality accommodations from all over India with Bag2Bag website and app on android and iOS.
Relish your old travel stories
While your future plan for travelling will keep you engaged, reminiscing the past travel memories will also bring the maximum fun. It may be about an unique person you encountered, delicious food you tasted, daring situation you faced, etc. Great laughter is guaranteed when you share these stories with your family. Also, binge-watch your favourite travel shows and read the travel classics to plan an exciting adventure when you can travel again.
The nation is better equipped than it did last year and let's continue our battle with the pandemic to restore normal life. Hope for the better future! Stay home, stay safe.