Having a packed schedule but do not want to miss the joy of celebrating love? With casual planning, you can enjoy this valentine's day at the comfort of your own home. Feel the real exhilaration of spending time together privately indoors! As the day holds immense significance in the life of couples, celebrate in a way to remember it forever. Though you are expressing pure romance all year long, relishing the unique bond on valentine's day is pretty special.
It's the perfect time to show how much you love your dear one and fall for each other again! Valentine's day at home can be more enchanting than you expect. No hassles like getting stuck in the crowds, booking tables in ritzy restaurants when you can celebrate this charming day with your loved one.
Jazz up your living room
To revel in the ideal celebration, decorate your rooms with a festoon of flowers, heart-shaped balloons, candles and colourful light settings. Recreate the perfect ambience as you would normally enjoy in some fancy restaurants. If you can further add the little elements of delightful music, it finely elevates the romantic mood! Just prepare a playlist of favourite tracks that connects well with your heart.
Reminisce the good old stories
Nothing excites you like looking back at the pleasant old memories! It gives an ideal emotional touch to your relationship in this valentine's day. Sit together in a secluded space, revisit your candid moments, and share unlimited laughter. If you have known each other for some years, relive your first proposal and gifts. It is sure to bring fun and blushing moments! Old love letters and gift cards can create magic between your relationship.
Get into your kitchen
You won't find it difficult to cook as there are several recipes to choose from the web. With little experience and love, you will cherish baking the luscious chocolate cakes and other delectable dishes. Bring the sweet surprise to your dear one in this valentine's day. You can indulge in cooking barbeques if your home encloses lawn area! Set bonfire in the limited space, take a guitar and sing the romantic number to amaze your partner.
Binge-watch favourite romantic shows
Have some popcorns and a big screen? Your customised cinema hall is ready! Set the perfect lighting and enjoy watching your favourite movies endlessly. Snuggle with your partner on the couch and luxuriate in the quality time. Besides the usual romantic movies, you can also watch some horror movies that guarantee enormous entertainment. It's the dazzling way to soak up the romance in this valentine's day!
Explore your creativity
Do you love making handmade arts or painting? Great! Then, you don't have to try too hard to find a place in the heart of your partner. Impress your dear one with your creative mind! This is the rarest way to show love but it lasts with your life forever. Gift a painting or some other craft that adds value to your relationship.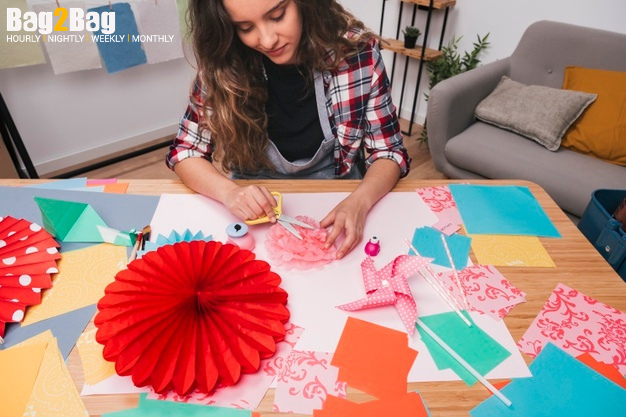 Make this valentine's day more fun-filled at your own home! Celebrate love and set some amazing couple goals on this special event.
Bag2Bag Rooms Provides Best Hourly Hotels in India and Download App