Before Lockdown, you might not have spent more hours in the kitchen amid the busy work lifestyle. But this is the time to try the new healthy recipes and discover the cook in you. You can simply relish a few hours by sampling some unique food items. Kids are usually drawn towards cooking where they will enjoy offering you a little help. As the food delivery companies are being suspended during this lockdown, you have no other choice than delving into your kitchen. Bring the flavoursome national and international cuisines directly to your kitchen table with ease.

You don't need to be a master in cooking, just be the one to enjoy! Bring a smile to your family and captivate everyone around with these lovable recipes. Though these dishes only involve simple ingredients, it is rich in flavour and taste.
Lentil Fritters

One of the healthy recipes containing wholesome nutrients! This recipe won't demand hours as you can make this within 20-25 minutes. Blend the lentils with chopped coriander, spring onion, and gram flour. To spice things up, add chilly to your taste. Pour the oil into the pan that is allowed to heat. Sprinkle some sesame seeds to catch sight of the heat. Take a portion of a prepared lentil mixture and drop into the oil. Now, fry till it turns golden brown on each side. Kids will cherish lentils if you give in this form.

Avocado Sandwich Toast

If you need something different for your breakfast rather than having a usual meal, make the highly delicious avocado toast. Take a mellowy avocado and use the pulp inside for a spread. Crush the pulp to become creamy and add Indian spices like onion, green chilli, ginger-garlic paste, tomato, coriander leaves, mint leaves, lemon juice, and salt. Spread the copious amount of avocado mixture on the bread slices. It's time to toast the bread slices with cheese to achieve the next-level taste.

Banana Muffins

This melt-in-your-mouth recipe can be made simply under 30 minutes. Just give an interesting twist to the leftover bananas! 3 ripe bananas and some basic ingredients will make for a luscious dessert. Flour(all-purpose or wheat), melted butter, vanilla, sugar, cinnamon, nutmeg, milk, and egg yolks. Mix it well together so that you will get a crumbly consistency after baking. It's good to bake even in a cooker if you don't have an oven. Finally, savour the utterly delicious and spongy banana muffins. Muffins don't end here where you can try with other fruits and ingredients too.

Chapathi Burrito
Leftover chapathi is turned to a Mexican style burrito. To prepare the sumptuous filling, you just need red bell pepper, yellow bell pepper, chopped onion, cumin seeds, boiled rice, and tomato sauce. Cook this well by adding oil in a frying pan where the tomato puree will bind the filling together. Just add a little shredded meat, paneer, or Aloo if you wish. Take the generous amount of filling to add in the chapathi. Wrap it up this enticing Mexican meal and wait for none to smack this Burrito.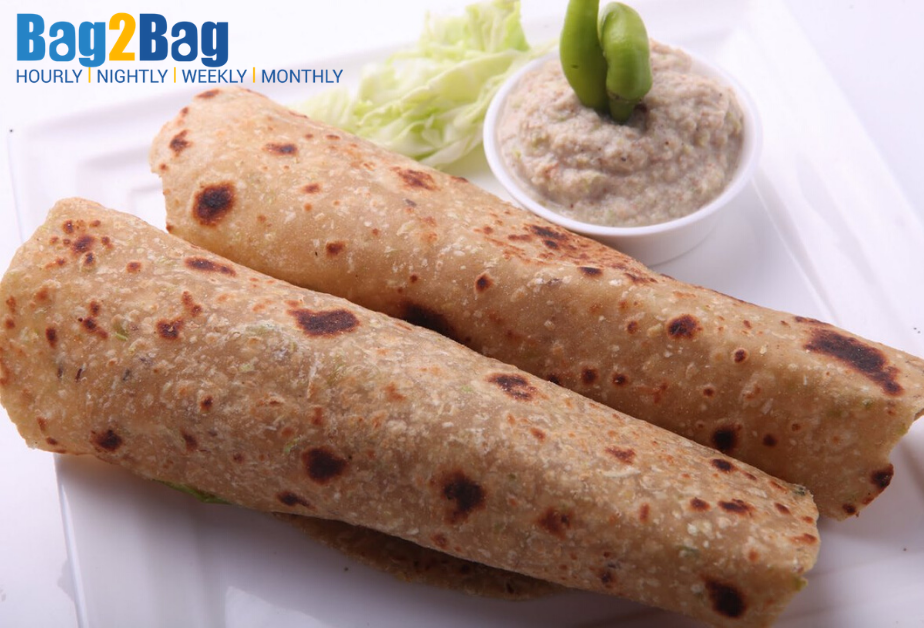 Stuffed Paneer Pizza

Our Yearning for a fresh-baked pizza is never-ending. You can use all-purpose flour or wheat flour to make fluffy pizza dough. Roll the pizza dough nicely to attain the crispy layer outside after baking. Spread the juicy homemade pizza sauce on the dough and embellish with fresh ingredients such as marinated paneer, capsicum, tomato, onion, and Mozzarella cheese. Once you are done with assembling the veggies, bake this for 15-20 minutes in the oven. Your tempting pizza is finally ready to serve!

Indulge in cooking with these simple and highly appetizing healthy recipes. Make your lockdown hours more enjoyable with your family and friends.

Bag2Bag Rooms Provides hotels for couples in India and Download App