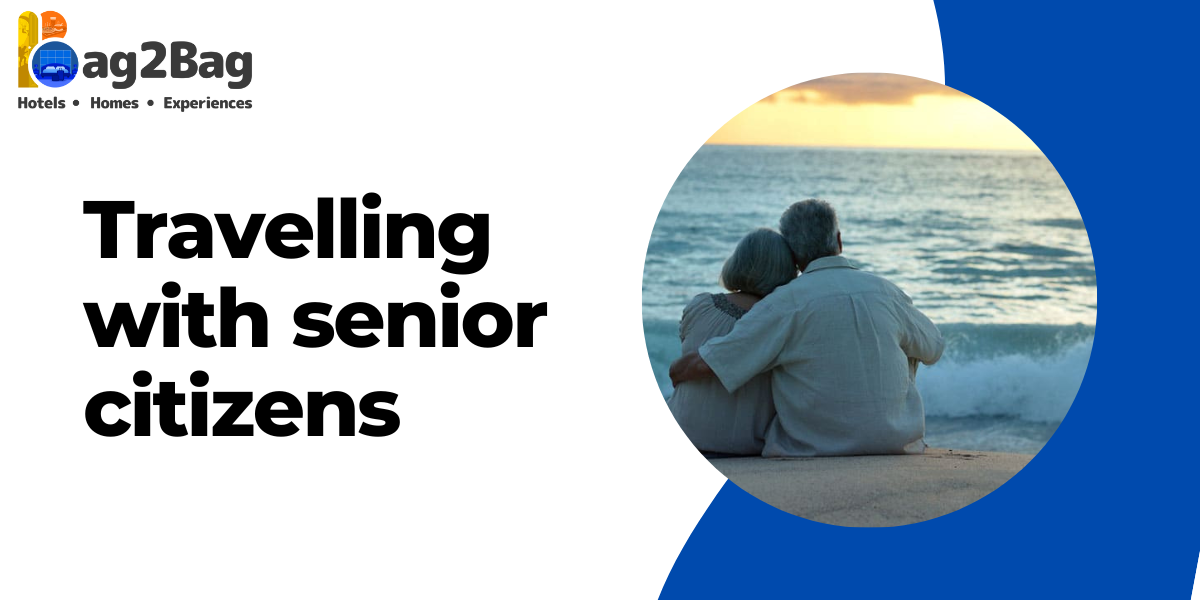 Table of Contents
Introduction
Shower them with love
Authentic Homestay experiences
Try out indoor and outdoor activities in the resorts
Not the usual medical trip
Summary
Introduction
What comes to your mind suddenly while thinking of your grandparents? Summer vacation? The first and indelible travel experience for all and nothing evokes wanderlust more than this. Look back on those dreamy childhood summer vacations that weave nostalgic moments. Fondly remember the experiences such as Plucking fruits in the garden, swimming in the river, pampering home-grown pets, etc. Take a break from everything to savour new moments and establish emotional bonds.
Shower them with love
Love for travel for every kid starts from the childhood summer vacation. Express your gratitude to your parents and grandparents by offering them a spectacular trip now. Not sure where to go? Take a trip down memory lane. Travel again to that magical destination where your parents took you for the first time. Discover new cultural trends and travel experiences.
Authentic homestay experiences
Bag2Bag offers a handpicked collection of immersive holiday retreats for senior travellers. The world is wide-open to taste new adventures apart from regular pilgrim journeys. How about embarking on a soulful trip to remote hill destinations? Book homestays and resorts in exquisite locations and connect deeply with the places you travel to. Pick fruits from the orchards, take coffee trails, dip in the cascading waterfalls and soak in the majestic hill views. Befriend locals and understand their traditions better. Sit on the expansive garden space to share good laughter after spending a day exploring sightseeing places. Help your parents and grandparents to tick off their bucket list destinations. 
Try out indoor and outdoor activities in the resorts
From the eerie wilderness of Jim Corbett and the spiritual vibes of Rishikesh to the postcard-like landscape of Kashmir, explore the rich travel experiences. Bag2Bag offers resorts in India that reflect the local culture. Include seniors in various activities such as Cooking, board games, dining by the poolside, and playing tunes from the past for an endless groove while staying in the resorts. What's a better way to improve emotional bonds? Living in an independent space will let you connect better and explore the local experiences. Access the thoughtfully designed wellness features and recreational amenities.  
Devour your favourite cuppa from the locally grown coffee beans while catching the sight of sunrise in the early morning. Enjoy the jungle safari experiences with your lovely parents to spot majestic wild creatures. Reminisce the childhood memory of hearing bedtime animal stories while experiencing real-life wildlife encounters. 
Not the usual medical trip
Even if you are taking your parents or grandparents on a medical trip, live in a service apartment or homestay to experience homey comforts. Undergoing surgery and medical rehabilitation can be tough for your beloved senior citizens. Worry not! Get a sophisticated living environment across top cities with Bag2Bag. Combine wellness and leisure elements into your medical trip. You can take good care of them with the world-class amenities in service apartments.
The facilities are excellently tailored to suit the needs of senior citizens. Prepare healthy soups and refreshing juices from the comfort of the in-house kitchen. Meet their food needs on time and ensure proper personal hygiene with no hassles. Practice exercises with them for fun! Take your dear elderly citizens to nearby travel places. Give them the space to connect with like-minded people on parks and beaches. 
Summary
Staying long with them in a new place will help you build emotional bonds and create everlasting memories. Show them a unique world they have never seen before.