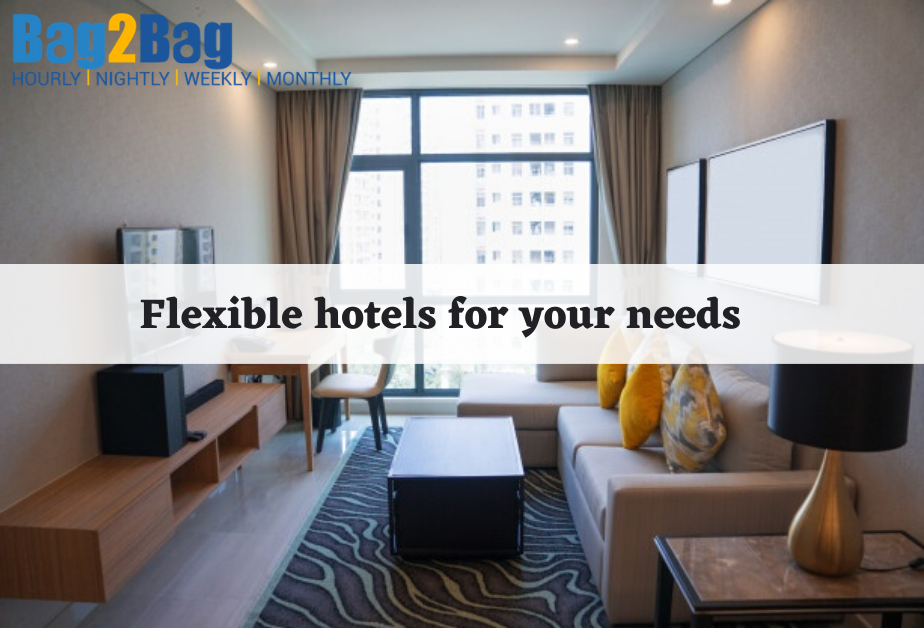 The travel industry in India has evolved significantly in means of offering ultimate convenience to travellers. The advent of hourly stay hotels in the major cities of India benefits different types of travellers. It is truly an astonishing way of hotel booking as you can avail the stay based on your needs. The hourly hotel booking is the trend which can suit your demands in a stellar manner. Bag2Bag hotels have mushroomed in the prime regions of India to offer hotels on an hourly basis to travellers. You can now enjoy the hassle-free method of booking hotels for a few hours via Bag2Bag.

Do you seek sheer flexibility during your stay? Then, make use of the hourly hotels offered by Bag2Bag straightaway. Countless benefits are on your way when you book the hourly use hotels through Bag2Bag. There is absolutely nothing to ruin your stay! Instead, you can luxuriate in the utmost comfort by booking the hourly hotels.
Enjoy your hourly stay
This is the dazzling way of staying only for a few hours and paying based on that. Choose from a different range of hours to book the hourly hotels in Bangalore at any time. If you need to relax for a while on your road trip, you can rely on the hourly hotel room booking via Bag2Bag. Simply cherish all the amenities with a convenient check-in and check-out times. Book hotels based on early check-in slots in case you have arrived earlier to the city. If you need to catch connecting flights, the early check-in, late check-out hotels will work better for you.

Discard all the constraints lies in conventional hotel booking and rather grab the stunning hourly use hotels in Bangalore via Bag2Bag. No hassles like paying for a whole day whereas your need is only for a few hours. Always seek for an inimitable convenience while also going pocket-friendly. No matter whenever you need a stay, you can book hourly hotels at night or day if you are travelling from Bangalore to Mumbai.

Book hotels for all your needs

You can find hotels even for 1 hour to drop your luggage safely in the day use hotels in Mumbai. In most situations, an hour will suffice to get ready. Further, you will be able to take a power nap by booking the hourly stay hotels via Bag2Bag. If your flight arrives a bit late in the city, you don't need to wait for long hours in the terminal. Instead, recline calmly in the day stay hotels in Mumbai. Your hourly hotel room booking through Bag2Bag always comes with appealing coupon offers and discount codes.

Regardless of how long you occupy in the hotel room, you are allowed to utilize the extra perks. You can extend the stay if you have some remaining hours to board the bus, train, or flight. The corporate style hotels will always aid your business purposes. If you have suddenly planned to visit Mumbai, book the short stay hotels in Mumbai offered by Bag2Bag. You can even use the last minute hotels in Pune during the day or night with ease via Bag2Bag. This will help if you haven't pre-booked your stay.

Works well for different travellers

The hourly hotels offered by Bag2Bag will make for a comfortable stay for leisure travellers, business travellers, academic travellers, and so on. Leisure travellers usually prefer booking hotels on the go and stay only for a shorter duration. In this case, day stay hotels provided by Bag2Bag can exactly meet their demands. If you arrive at night in Delhi NCR to gain new clients the next day, take rest for a few hours by booking the night stay hotels in Delhi through Bag2Bag. While enjoying a comfortable stay, you can also finish all your business commitments.
Your trip is complete if you find a perfect stay without any complexities in cities such as Gurugram and Noida. To attend the conference in prestigious universities, you can book hotels without the availability of strict check-in and check-out slots. What if you arrive in the early morning? Will you wait for until 11.00 or 12.00 A.M which is the regular check-in time followed in conventional hotels. Or else, you should pay for an entire day. You won't face similar issues when you book via Bag2Bag.

Safe space for couples

Couples generally expect a secure and secluded hotel environment. To meet exactly the same demand, Bag2Bag offers hotels for a few hours in several cities. If you are unmarried, you can take advantage of the hourly hotels for unmarried couples through Bag2Bag. Stay together with your dear one in the utmost safer hotel space. No hassles! Find the best hourly hotels via Bag2Bag that offers a flexible stay to the couples. Even if you need the hotels late at night, you can book the hourly stay hotels easily through Bag2Bag. Bag2Bag has the best couple friendly hotels in Bangalore, Mumbai, Kolkata, Hyderabad, Delhi, Gurgaon, Noida and many more cities. Choose from the wide range of budget and luxury hotels via Bag2Bag to take delight while staying with your special one.
You can't find this level of comfort elsewhere! A short and budget-friendly stay is what makes your travel more exciting. Seize the hourly hotels offered by Bag2Bag across cities in India.