The existence of innumerable companies in Delhi NCR area attracts a vast number of business travellers all round the year. There are varieties of sectors such as Tourism, Information Technology Centres, Manufacturing Sectors, etc. which plays a crucial role in enriching the Delhi NCR's economy. So, the demand for affordable hotels is inevitable. To aid this further, the contemporary travel landscape has undergone a tremendous evolution and set the perfect stage for hourly hotel booking portals like Bag2Bag.

Booking hotels for a short stay is not only affordable but also extremely convenient for business travellers. This will be a huge benefit for business travellers as they usually do not look for an entire day stay. No matter, they travel as a group or single, Bag2Bag provides ultra comfort affordable hotels in Delhi NCR. Business travellers may also need to travel from one city to another in Delhi NCR for attending board meetings. Therefore, Bag2Bag have amassed enough hotels across the region of Delhi NCR to facilitate business travellers. By booking hotels via Bag2Bag, you can discard the year-long custom of hotel booking and seize the highly attractive hourly hotels.

Book rooms for your needs

If your travel is meant for business, you should not experience a toilsome passage in finding appropriate hotels amidst your commitments.  To hamper this situation, you can make use of the hourly stay hotels offered by Bag2Bag in Delhi NCR. You can also book hotels in Delhi near your desired meeting location to bypass the heavy traffic. What if you need to prepare the subject matter for your meeting just before an hour? What if you need to take a shower before getting to the conference? Day use hotels in Delhi NCR can quickly fix all your similar needs. As you are booking flexible hourly rooms, you can go easy on your wallet! Bag2Bag lets you book room from the range of 1-12 hours where you will pay only for the hours you stay.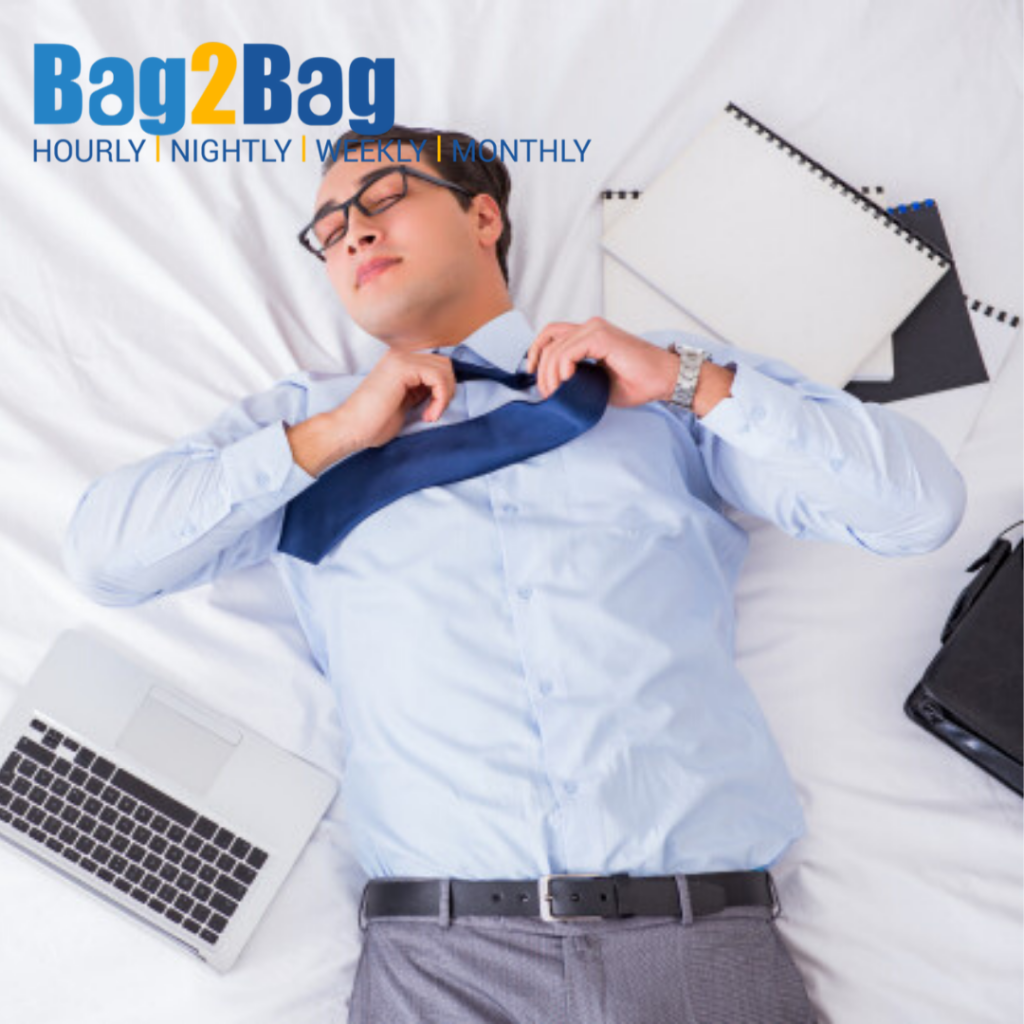 Flexible timing slots

Last-minute hotel booking, late check-in, and early check-out are all made possible with the affordable hourly use rooms offered by Bag2Bag. Business travellers, by and large, prefer arriving in the destined location well beforehand and love taking a quick nap ahead of their meeting. So, with the help of short stay booking concept, you can check-in lately without any hassles. In some instances like catching the late-night flight, you may have to check out very earlier. All these similar situations can be tackled easily by booking hourly use hotels via Bag2Bag. Flexibility to the fullest at an affordable price!

Convert Lounge room to a meeting space

A space for a few people in the lounge room can create an ideal meeting environment and to wrap up things, you may not require more than a few hours. With a high-speed Wi-Fi connection, free lounge space, and the concerned crew, you can work out the meeting in a stellar fashion. No external factors can have an effect on your meeting when you have chosen 3-hours booking slots via Bag2Bag in Delhi NCR. Why should you pay for a full day when you just need rooms for a few hours? Book a safe and affordable day stay hotel rooms with Bag2Bag. You can enjoy the smooth connectivity to nearby railway stations, International and domestic airports.

Expect the added perks during your stay
It isn't necessarily how long you have stayed at a particular hotel booked via Bag2Bag? You are allowed to cherish all the special perks offered by the hourly use hotel rooms. Bag2Bag finely caters to the exact demand of the business travellers and so provides an extensive range of luxurious and budget accommodations. You can always expect a generous car parking area, Wi-Fi facility, cleanliness room, amicable hotel staffs, spa, gym, etc. How can you miss these astonishing facilities at an affordable rate? Just enjoy all the benefits it offers.

Conventional hotel booking cannot be your choice anymore after the arrival of highly flexible hourly stay hotels in Delhi NCR. Relish the booking you have performed with Bag2Bag forever!!