Home to a multicultural population, Chennai, the capital of Tamil Nadu, is a historical city of contrasts.
Scorching hot during summer and unbelievably crowded, it is steeped in tradition yet charmingly modern and cheerful. Chennai never disappoints its visitors. If you only have 48 hours in Chennai — like I did, use your time to savour piping hot filter coffee. Additionally, explore the streets of gully cricket, experience hot street food, and learn new dimensions of culture of the city. You have no time to waste, so get yourself a car and a driver who knows how to best guide you around Chennai!
48 hours in Chennai
Day 1 – Visit Marina Beach, San Thomas Church, and Kapaleeshwarar Temple
Start your day early with a brisk walk at the Marina Beach, the second longest urban beach in the world. In addition, watch as thousands of other walkers enjoy the sunrise and bask in the cool breeze, which is a rarity in Chennai. Close to the Marina, the majestic San Thomas Church, fondly called Santhome by the locals, towers over its surroundings. British built this in 1893, Cathedral is one among the only three churches in the world that stand over a tomb of a Jesus' apostle. A kilometre away from the aesthetic Santhome is the heritage district of Mylapore with its historic Kapaleeshwarar Temple. Savour a vegetarian breakfast at Saravana Bhavan or Karpagambal Mess before you explore the ancient temple. Don't forget to get a cup of "filter" coffee, a breakfast staple here.
Dawn at Marina Beach
Doll display in Mylapore Market
The 7th-century Adi Dravidian temple is dedicated to
Lord Shiva
, in the form of Kapaleeswar and his consort Parvati named Karpagambal here. The surrounding area, Mylapore is a riot of colours with its charming markets selling everything from fruits and vegetables to souvenirs and artefacts. If you're here before the 9-day long Navratri Festival, be prepared to spend at least a couple of hours exploring the resplendent streets where colourful dolls and idols are sold. After the chaos in Mylapore Market, visit the 
Ramakrishna Universal Temple 
dedicated to world prosperity. This modern temple combines traditional Dravidian architecture with Jain and Buddhist style. It has been built not for any specific religion, but to urge worshippers to find faith through the discovery of their inner selves.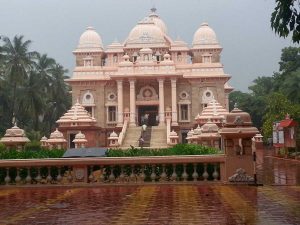 Universal Temple
Fort St. George
Proceed to Annalakshmi restaurant at Mount Road for another sumptuous vegetarian meal before moving on to visit Fort St. George.  British built this this Seventeenth Century monument for trade purposes. Today, it functions as a legislative assembly for the Tamil Nadu Government and houses two interesting tourist sites: The St. Mary's Church and the Fort St. George Museum. The Fort St. George offers an insight into life as it was in Madras under British rule.
Fort St.George
Satyam Cinemas
After conquering a Hindu temple and two churches, why don't you unwind in the air-conditioned comfort of the Satyam Cinemas for the rest of the evening? It was a place where you can learn more about cinema, another important 'religion' in Chennai. Satyam Cinemas, with its cushy seating and delicious snacks, is an ideal place to relax after a long day. Remember to book tickets in advance for the place is always crowded. And while you're here, check out the gaming lounge 'Blur', a fascinating hidden gem especially for video-game lovers.
Larger-than-life sized banners
While
nightlife
may not be
Chennai's
forte, you can still enjoy the best night haunts in the city. Especially, if you stay at strategic
hotels in the heart of Chennai.
Day 2 – Check out the Crocodile Park
It's time to explore the vast East Coast Road (ECR) of Chennai that will take you all the way to Mahabalipuram's enchanting shores. Leave your hotel early to catch the sunrise over the majestic Marundeeshwar Temple that marks the beginning of your ECR journey. Enjoy a soothing breakfast at 
Taj
 or Radisson Blu at Covelong before continuing your journey. If you are an animal lover, visit the Crocodile Park, an innovative preservation centre for endangered crocodiles and turtles which also happens to be one of the biggest reptile parks in the world. Apart from crocodiles, there is also a snake farm where you can watch a show depicting how snakes are milked for venom; incidentally, this centre is the biggest producer of venom in Indi
Mahabalipuram
The next stop is at Mahabalipuram, now called Mammalapuram, a UNESCO World Heritage Site that will transport you to the sixth century with its exquisite rock carvings, cave temples and monuments. This site once attracted ships to the coast of Tamil Nadu with its brightly coloured pagodas and was an important trading port for the people of Rome and Greece.
Sculptures at Mammalapuram | Photo Credit: CC by 2.0 / Jean-Pierre Dalbéra
Dakshinachitra Living History Museum
Dakshin Chitra and ISKCON Temple
After lunch, get back on the ECR to explore more attractions on the way back to Chennai. At Covelong Beach or Muttukadu, spend an exciting
couple of hours
with ATV rides, speed-boating, windsurfing or even jet-skiing. There's even a surf school where you can learn to surf the rough waters of the Bay of Bengal. Then, visit Dakshin Chitra, a "living" museum that offers hands-on activities related to the South Indian culture. Your next stop would be at the splendid ISKCON Temple with its white-marbled grandeur dedicated to Lord Krishna and Radha.
ISKCON Temple
Before we knew it, it's time to say goodbye to Chennai. 48 hours are definitely not enough to discover every corner of Chennai, but it is surely another reason why you should come back here again. Until then, Chennai!